Organizational Development and Performance Improvement
Improving Internal Operations + Increasing Employee Engagement
= Performance Improvement
Outdated or inefficient internal systems and operations may be limiting your company's ability to grow and prosper. Utilizing the principles of systems thinking and best practices, we collaborate with you to evaluate and improve your internal structures and processes. In turn, skill and proficiency levels throughout the company are improved. We focus on the management and leadership systems that will make a dramatic and positive impact on morale and productivity.
Common issues include: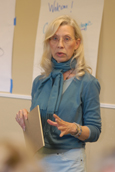 Organizational Structure – Define and design the optimal functional components for your organization and their relationship to one another.
Management Systems – Create optimal systems that increase productivity.
Meeting Management – Ensure this critical use of time is leveraged for maximum effectiveness.
Internal Communications – Establish protocols and practices that build trust and morale.
Leadership and Management Development – Build leadership capabilities throughout the organization.
Company Culture – Ensure that the heart of your organization is healthy.
"Mary's enthusiastic and innovative approach to coaching, training, and facilitating helped us at a critical time to improve our internal operations, enhance our abilities, and fulfill our important mission of land preservation."
70% of employees in the USA are not engaged at work. (2002 Gallup Poll)
55% of Americans want more meaning in life. (Time Magazine 11/19/01)