"Mary's work provokes thought and produces results. What else could one ask for? Nothing! I have worked with Mary on several different projects with community groups and business groups. Mary's ability to process information while at the same time listening and formulating strategy is a gift that is key to her success. Equally impressive and important is her style in bringing together divergent views to accomplish our goals. Mary's style and skills – that's the difference."
Dan Benedetti, Chairman of the Board, Clover Stornetta Farms, Inc.
"I value planning, but used to dread the process. Mary takes the pain out of planning. If you're going to do it, get someone good. We created the best strategic plan in our company's history and continue to rely on Mary's expertise for a wide range of projects."
Iver Skavdal, CEO, GHD
"Mary Luttrell has been an absolute godsend! She helped me get clear on what I wanted to create and then walked me through the steps necessary to make my dream a reality. I believe it would be difficult to find another consultant like Mary who is so professional, affable, creative and detail-oriented. Her guidance, support, and sense of humor throughout the process have been invaluable."
Carla Fabian, Founder, Bel Camino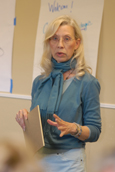 "Mary did an
outstanding job…superb
! Her sensitivity to the views of each person, her ability to encourage the group to work towards solutions and results, and her refreshing style all combined to make for a very successful outcome."
Ben Stone
, Director,
Sonoma County Economic Development Board
"Mary's assistance came at a critical time of significant change in our top management. Her guidance and support provided continuity for a smooth transition. Her enthusiastic and innovative approach to coaching, training, and facilitating helped the District to improve its internal operations. The principal areas of assistance included: executive and leadership coaching, development of a strategic vision, improving internal systems and teamwork and meeting and retreat facilitation. Throughout this breadth of services, I have been impressed with her consistent care and preparation. Thank you, Mary, for your significant contribution and the invaluable management assistance you have provided."
Andrea Mackenzie, General Manager, Sonoma County Agricultural Preservation and Open Space District
"I have had the opportunity to work with Mary on several sensitive and challenging employee relations issues. Mary is a skilled professional who handled these assignments with a great deal of diplomacy and tact, facilitating a successful resolution to these issues. I highly recommend her to any employer who may be in need of her services."
Cindy Conway, V.P. / Human Resources Director, Exchange Bank
"Over the years you have guided us through strategic planning, team building, and personnel development. You have been a coach to me personally, supporting and challenging me to grow as a manager and leader. You have encouraged the strengths of the individuals in the organization and have been direct about areas in need of improvement. I have learned from the content of what you teach and also, from the style and values you model as a teacher. As a planner, you emphasize the values, goals, and vision of the organization. It would be impossible to describe all the forms your support and guidance have taken over the years. Most important, of course, are the results. Your contribution has been immeasurable."
Naomi Fuchs, CEO, Southwest Community Health Center and Redwood Empire Medical Group, Inc.
"Your advice and counsel to us over the years has been of real value to me, and has greatly contributed to our approach to business and relationships. Your thoughtfulness and dedication to the success of others is why you have been so successful."
Larry Simons, Partner, Simons & Woodard (formerly Simons & Brecht)
"Mary Luttrell is a wonderful sounding board to work with while you think through challenging business situations. I have had the pleasure and benefit of working with Mary for a dozen years or more. Inevitably I come away with a clearer insight and better understanding. It is an exciting and rewarding process to interact with someone with Mary's level of intelligence, experience, compassion, and wisdom."
Bob McIntyre, President, McIntyre Tile Company
"Mary Luttrell has been extremely helpful in both the development of our organization and also in my personal development as a manager. Her skills in the areas of coaching, facilitation, and organizing are excellent. I highly recommend her services to anyone who wants to improve their organization or their management skills."
Joe Kopczynski, Production Manager, McIntyre Tile Company
"Mary is always moving action forward. She's incredibly organized, a great listener, and works magic with a group. She's very creative and fun, and always makes me laugh. She's a joy to work with."
Cheryl Ricci Kopczynski, Distributor Sales Manager, McIntyre Tile Company
"Utilizing Mary's services, our management team has been able to do more, work together better, and ultimately create a culture of mutual benefit and synchronization. Mary has been a catalyst and quiet voice of reason, guiding our organization to a better place through every interaction. We found focus and made real progress toward our goals, as Mary is able to strip away needless complexity and dissention and get to the heart of the matter."
John Way, Director of Development, Community Action Partnership
"I participated with several other leaders for over ten years in Mary's leadership development program, the Executive Round Table. Mary is very skilled at directing the discussions towards meaningful outcomes by providing her business consulting expertise and asking thought-provoking questions. Mary assures that the time spent is productive, and my experience has been uniquely enriching."
Laura Harwood, CFO, Far Niente Winery
"Ms. Luttrell has excellent skills as a facilitator. She was able to lead the Foundation Board of Directors and Regional Parks Staff through the maze of issues and concerns encountered in the planning effort in a professional manner, sensitive to the needs, wants and desires of the diverse group. Through her leadership, we have been able to focus our efforts. The plan has enabled the Regional Parks foundation to be a key player in funding important projects at Regional Parks throughout the county."
Jim R. Angelo, Director, Sonoma County Regional Parks
"Mary Luttrell has been and continues to be a wonderful teacher in my life and in my business. Her search for the truth creates a trusting environment where this can happen. She is at her best when presented with difficult and complex organizational/human business problems. Uniquely gifted, she sorts through the chaff and effectively hones in on the central core problems. As a coach, in times of personal or business transitions, she is without equal."
Robert Thompson, M.D., Managing Partner, Redwood Orthopaedic Surgery Associates
"I was fortunate to have Mary guide me and my staff to define and reinforce our mission, as well as build a strong staff team. Mary worked with us to organize an extraordinary one-day workshop. I was amazed by Mary's careful, creative, and thoughtful skill in orchestrating a very successful workshop. She is the very best in her field; I consider Mary to be a treasure."
Steve Sharpe, Interim General Manager, Sonoma County Agricultural and Open Space District
"When we work with Mary, things flow and things happen."
John Sutti, Founder, Sutti Associates
"We needed someone to facilitate a group addressing difficult issues. Mary facilitated the retreat and put together a strategic plan for the group's goals. Before the retreat they had no bond. After the retreat they had a trust that was vital for the group's purpose."
Peggy West, Director of Staff Services, Santa Rosa Memorial Hospital
"Our experience is that Mary Luttrell has a special way of helping our company line up all its 'big and small arrows' so that they travel in the same direction. This new alignment really put our company on a true course."
David Viviani, Proprietor, Sonoma Cheese Factory
"Mary is a business counselor. Her knowledge of processes that lead to successful outcomes is very thorough. More importantly, she knows which processes to use in different situations. She is very skilled at applying the process to the human factor and keeping the agreed upon end in mind. She embodies the spirit of 'without alignment, there is nothing' in business. The alignment is the human component."
Laura Whiting, Project Director, Sonoma County Food and Wine Center
"Mary is a delight to work with ~ her ethics and creativity were like a banquet, as we were hungry for new ways to guide our business. Her clarity and focus shed new light on our objectives and goals. She guided us well and gave us tools that we continue to use."
Dayle Marshall, Partner, iSpiritual Personal Labyrinths, Inc.
"Mary Luttrell encouraged me to follow my entrepreneurial nature and planted the seed for my public relations business. Now, 17 years later, I represent some of the most dynamic and interesting winegrowers and vintners worldwide."
Marie Gewirtz, Principal, Marie Gewirtz Public Relations and Marketing
"In one two-hour session, Mary cut to the chase and helped me find a solution to a dilemma that had been plaguing me for quite some time. Mary's keen insight cut through all my confused thinking and made a very complicated situation manageable."
Kraemer Winslow , Principal, Executive Communications, Inc.
"I value Mary for her management expertise, her warmth, her support, her good strategic sense, and her ability to quickly become an ally. She is skilled at analyzing situations, recognizing the importance of relationship-building, and helping her clients to grow."
Helga Lemke, Executive Director, Community Action Partnership
"The first benefit of working with Mary was learning the process of developing a business plan. I also learned how to build a team and form a cohesive, success-oriented group. This enabled me to build a growing business. Today, the business has more than quadrupled. We have 50 employees now, compared to 6. Mary has been a great inspiration to me."
Carolina O'Hagin, Chairman of the Board, O'Hagin's, Inc.
"With Mary's advice, we have been able to meet every goal for almost 8 years. Now our business almost runs itself. We owe a great deal of our success to Mary and her initial guidance as well as her encouragement along the way. We thank Mary for her help in getting us where we are."
Cathy Silberman Bechler, Feed This, Inc.
"Mary Luttrell was instrumental in stirring our creativity and helping us overcome "gridlock" in developing our company vision, mission and guiding principles. Her calm, stable and friendly demeanor made it easy to welcome her as part of the team. She is a true professional."
Kamran Shamsavari, President, Xandex
"There were several people I could have chosen to work with when I finally decided to bite the bullet and get some help with my marketing. I made the right choice. Mary is a consummate professional, and at the same time very warm and human. The process was educational, sometimes difficult, often fun, and ultimately confidence building. I came away feeling it was definitely money well spent."
Jan Lowry-Cole, MA, MFT
"As you know, partnerships are difficult. Mary helped us get through our formative years and the process of figuring out just what we were about. I credit Mary with helping us come to grips with some of the difficult questions inherent in being in business."
Dick Osborn, Partner, Ozborndooli Architecture
Public Tribute to Mary Luttrell Published in the Sonoma County Gazette (2/13/04)
"My words cannot do justice to Mary's focus, skills and energy that she brought to this organization. She has coalesced and directed an amazing group of people and led them to achieve a long list of accomplishments. Thank you, Mary, for being our fearless and wonderful leader. You kept us focused, made sure that information was flowing, and made it fun."
Joan Ribeck, Forestville Planning Association